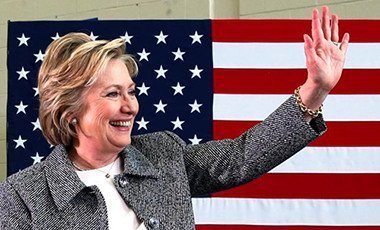 HILLARY Clinton has captured enough delegates to secure the Democratic presidential nomination, according to tallies by two U.S. media outlets, as she and rival Bernie Sanders faced off on Tuesday in contests in six states.
A former senator and U.S. secretary of state, Clinton would be the first woman to ever be the presidential candidate of a major political party in the country's history.
Sanders has vowed to keep up the fight in what has been a long and increasingly antagonistic Democratic primary race.
The U.S. senator from Vermont, who calls himself a democratic socialist, has commanded huge crowds spilling out of parks and stadiums, galvanizing younger voters with his promises to address economic inequality.
But Clinton has continued to edge out Sanders, particularly among older voters with longer ties to the Democratic Party. Her less lofty promises focus on improving upon the policies of her fellow Democrat and former boss, President Barack Obama.
On Tuesday morning, Clinton secured the endorsement of House of Representatives Democratic leader Nancy Pelosi of California, who noted Clinton's career devoted to children and working families.
"In this campaign, we have seen her vision, her knowledge, her ability, indeed her stamina, to get the job done for the American people," Pelosi said in a statement.