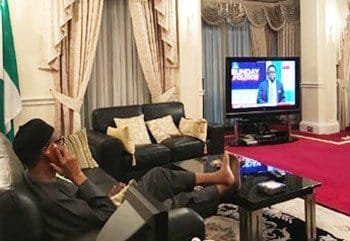 NIGERIAN President, Muhammadu Buhari, has saluted the Nigerian media for performing its duties diligently.
The President, who made his position known on his Twitter handle, @MBuhari, on Sunday in London, said he was always in touch with news from home.
President Buhari, whose picture was also posted in the tweet, specifically named Channels TV as one of his favorite Television stations.
He said: "Wherever I am, I keep up with news from home. Channels TV is one of my favorites. I'm proud of what the Nigerian media are achieving."
The post has, therefore, dispelled the insinuation about the President's health conditions.
The Presidential spokespersons on Saturday night in Abuja described as "evil rumours" the social media reports on President Muhammadu Buhari's health conditions.
Meanwhile, many Nigerians have taken to twitter and Facebook to castigate the mischief makers.
Recall that President Buhari left Abuja for the United Kingdom on Thursday on a short leave, which is part of his annual vacation.
He is expected to resume work on February 6, 2017.