ALI Modu Sheriff faction of the Peoples Democratic Party, PDP in Plateau State yesterday attempted to take over the party secretariat in Jos, a move that was vehemently resisted by the Ahmed Makerfi led faction.
As early as 8am loyalists of the two factions assembled infront of the party secretariat at the Yakubu Gowon Way, Jos, but the timely intervention of the police saved the day as the gate of the secretariat was locked and the suppporters were prevented from gaining entry into the premises.
However, the Ali Modu Sheriff exco led by Gyang Badung who spoke with journalists at the Solomon Lar amusement park, Jos said, "We are here to address you on the recent development, we officially wrote to the security informing them of the meeting which was to take place today at the Secretariat but the other aggrieved group mobilized army of errand youth to disrupt the meeting.
"I am the substansive Chairman of the Party in the State, former Minister of Sports, Damishi Sango has always been the trouble maker right from the beginning of PDP days of former Governor Joshua Dariye when the state had witness series of crises."
Elder Sango only comes to office for personal gains and when he failed he will abandon the party to another party, for us in PDP Sango is a political prostitute moving from one party to another. We are calling on him to stop parading himself as the Party Chairman in the State.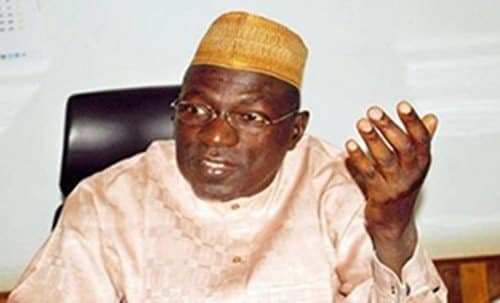 "Meanwhile, The Senator Ahmed Makarfi factional leader ,Hon Damishi Sango in his speech to his supporters at the party secretariat yesterday morning expressed surprise that the party secretariat was sealed by security agents. misinformation by some group. These people just invaded the office but I commend the security for resilient and commitment to safeguard the live and properties of the citizens.
"I don't want to believe that Sheriff is responsible but it is a few mischief makers, PDP is a dependable party but we know those sponsoring crises to scare people away from the Party."