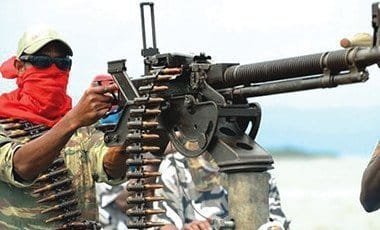 AN ex-militant in the Niger Delta, General Commander Tamunotonye Kuna alias Obase, has said that the ongoing destruction and bombing of oil installations by a new group of militants, Niger Delta Avengers, will further compound the problems of the region.
Tamunotonye, who spoke with newsmen in Abuja on the recent development in the Niger Delta region, urged the militants to embrace dialogue and olive branch offered by the Federal Government.
He commended the amnesty granted former militants by the late President, Umaru Musa Yar'Adua that led to relative peace in the region, saying violence would aggravate the situation in Niger Delta because of its negative impact on the nation's economy which the region is not insulated.
Tamunotonye, who was however, skimmed out of the Niger Delta Amnesty Programme, appealed to the Federal Government do proper investigation and with a view to including some of them who were left out of the programme.
He noted that he was one of the militants during the popular struggle for the emancipation of the Niger Delta under the auspices of Movement for the Emancipation of Niger Delta (MEND), but vowed that he would never return to creek again.
He said: "When we started, it was for the Niger Delta people. But along the line, during the government of President Olusegun Obasanjo, he tried to make peace towards to end of his administration. The late President Ya'Adua did well by ensuring that peace was restored to the region.
"I normally tell people that nobody can fight government because we have tried and tried we did not succeed. As a general, they usually send me out for anything war. Our generals don't sit in the house. We have action general and money general and action generals normally face the battle.
"I maintain that nobody can fight government even though some of them are threatening to bomb here and there; it is only the few minutes that God gave to them and I tell you they are not Niger Delta persons because if you have a glass house, you will not throw stones.
"What they are doing is wrong and I advise everybody to stay away from trouble. We have tried violence and did not succeed," he said.
He added, "we that have never benefitted from this amnesty, need to be included because the programme is still on ground. I personally did not benefit since when we started MEND but I have never thought of going back to the creek because there is no gain it.
"I vowed not to go back to the creek because we tried violence and it did not work until we surrendered under the amnesty. We divided to follow peace and dialogue will bring what we want," he said.
The ex-militant, regretted some group of former militants who had enjoyed the Amnesty funds under the government of erstwhile President Goodluck Jonathan have assumed different colouration with determination to frustrate the government of incumbent President Muhammadu Buhari.