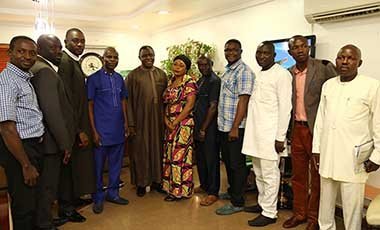 THE Executive Secretary of the Nigerian Christian Pilgrims Commission (NCPC), Mr Tor Uja, has stressed the need for the Christian Association of Nigeria (CAN) to ensure unity in the church for harmony and for the benefit of the Christian Community.
He made this charge in Abuja while receiving in the Executive Members of the Youth Wing of the Christian Pentecostal Fellowship of Nigeria (CPFN).
The NCPC boss also called on CAN to develop strategies to promote youth work, build and equip women for ministry and give enough attention to the preaching of the gospel, saying, "if the gospel is not given its place of primacy we will fail."
He explained that one of the key pillars he would want to build in the commission is the pillar of the young.
His words: "We need to move and shift attention to developing the youth for greater tomorrow."
He affirmed that CAN had succeeded in sustaining itself and as such the entire Christian Community see the Christian Association as a rallying point.
He hinted that he had set up a committee to reduce the cost of pilgrimage so that more people can go on pilgrimage. Rev. Uja called on all churches to begin to send a minimum of 100 Youths on pilgrimage every year.
Earlier, the National President of the Group, Emmaobong Odohofreh said they were in NCPC to congratulate the NCPC boss on his recent appointment as the Executive Secretary of NCPC.