HILLARY Clinton declared herself the Democratic Party nominee for United States president on Tuesday, embracing her role in history as the first woman to lead a major party in a race for the White House.
The former first lady, U.S. senator and secretary of state celebrated her victory in the nominating race over rival Bernie Sanders at a raucous event with supporters in Brooklyn, New York, where Clinton placed her achievement in the context of the long history of the women's rights movement.
"Thanks to you, we have reached a milestone," Clinton said in a speech. "We all owe so much to who came before."
Clinton, 68, spoke shortly after beating Sanders in New Jersey's nominating contest, expanding her lead in the delegates needed to clinch the nomination and setting up a five-month general election campaign against presumptive Republican nominee Donald Trump in the Nov. 8 election.
Reuters reported that New Jersey was one of six states holding contests on Tuesday, including California, the big prize where Clinton was still at risk of an embarrassing loss to Sanders as she heads into the campaign against Trump.
With about one-third of the votes counted in California, Clinton held a wide 20-percentage-point lead over Sanders, but news networks said the race was still too close to call.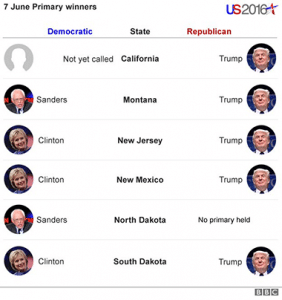 In her speech, Clinton appealed to Sanders supporters to join her and said the Democratic Party had been bolstered by his campaign for eradicating income inequality, which has commanded huge crowds and galvanized younger voters.
Clinton edged Sanders out, especially among older voters, with a more pragmatic campaign focused on building on the policies of her fellow Democrat, President Barack Obama.
But Sanders showed no interest in ending his upstart candidacy, telling cheering supporters in California that he would go on campaigning through next Tuesday's primary in the District of Columbia and carry his political crusade – although not necessarily his campaign – to the convention in July.
"We are going to fight hard to win the primary in Washington DC," he said. "And then we take our fight for social, economic, racial and environmental justice to Philadelphia, Pennsylvania."
The White House issued a statement saying Obama had called both Clinton and Sanders. It said he congratulated her on securing the delegates necessary to clinch the nomination and would meet Sanders on Thursday at Sanders' request.