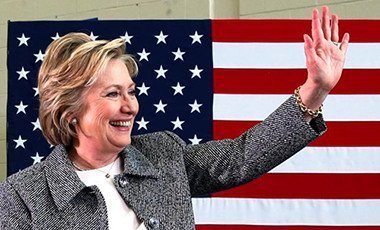 REPUBLICANS meeting this week to anoint Donald Trump as their presidential candidate will try to sell the combative businessman to voters as a strong leader who can shield America from the threats of violent crime and Islamist militants.
But a string of senior Republicans worried about Trump's temperament and policies stayed away from the party's convention in Cleveland, which opened on Monday in the shadow of recent racially tinged killings of police officers and black men.
Trump allies will promote what he bills as a tough line on law and order and national security in speeches later in the day.
Sunday's shooting of three policemen in Baton Rouge – a targeted attack that may have been in retaliation for a series of police killings of African-Americans – hung over the gathering.
The theme for the first day of the meeting had already been set as "Make America Safe Again." Trump has sought to position himself as the law-and-order candidate in an echo of Richard Nixon's successful presidential campaign of 1968.
Trump's wife, Melania, a Slovenian jewelry designer and former model, was due to speak on Monday night, joined by her husband on stage, as were foreign policy hawk Senator Tom Cotton and retired Lieutenant General Michael Flynn, a national security adviser.
They were likely to promise that Trump will crack down on Islamic State abroad and toughen up on crime at home if he wins the Nov. 8 election.
Iowa's Republican Party Chairman, Jeff Kaufmann, said that a month ago the top issue for voters in the state was the economy. Now, he is hearing concerns about security, and attributes that to the spate of shootings.
"Rightly or wrongly, the shootings that we've had have vaulted, not just national security in terms of external terrorism but also the knowledge that that terrorism is occurring within our country," Kaufmann said.
Such concerns might lead voters to choose Trump over Democratic candidate Hillary Clinton in November, he said.