THE aviation arm of the United Nations intends to set guidelines for space tourism and related commercial projects, the strongest sign yet that such budding ventures are gaining prominence world-wide.
The head of the International Civil Aviation Organization's top policy-making group laid out the goal—and even set a 2019 deadline for proposals—during a speech Tuesday to an aerospace symposium in Abu Dhabi.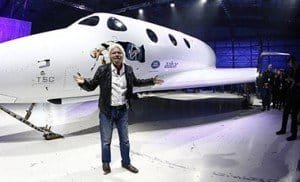 "Suborbital and outer space flights will foster new tourism and transport markets," while current investments in "related research and development remain at a very healthy level," Olumuyiwa Benard Aliu, president of ICAO's council, told the gathering.
The aim, he said, is "to include these new goals and provisions in the 2019 revisions" of the U.N. agency's high-level safety and air-navigation priorities.
Montreal-based ICAO doesn't have any direct enforcement authority. However, the agency's standards and guidelines—typically developed over many years—set the benchmarks for national laws and other rules controlling airline safety, airport layouts and air-traffic control procedures. The agency has previously indicated an interest in venturing into the space realm, sponsoring several meetings on the topic.
International standards for corporate operations outside the atmosphere, however, run the risk of interfering with national space programs, sovereignty issues and competing financial interests of companies leading the burgeoning industry. As a result, ICAO's leaders might find it difficult to adhere to their traditional consensus approach to oversight. The agency envisions implementation of global standards within five years.
By some estimates, more than four dozen venture-capital firms sank about $2 billion into commercial-space startups in 2015. "That's a huge level of activity compared to years ago," said Carissa Christensen, managing director of the Tauri Group LLC, a consulting company based in Alexandria, Va., that compiled the data.
Some of the most active projects involved remote sensing and small satellites. As launch costs come down, improving the economics of many startups, "the companies that have really good business plans are the ones that have been funded" by leading venture-capital outfits, Ms. Christensen said in an interview.
Overall, commercial space projects are attracting about $3 billion a year in investments, according to Eric Stallmer, president of the Commercial Spaceflight Federation, a trade association.
Get real time update about this post categories directly on your device, subscribe now.