By Seyifunmi Odunuga
All roads to Ajah, Lagos State, Wednesday
were blocked as the Chairman and
Chief Executive Officer (CEO) of Total Grace Group, Dr. Henry Akinduro, was performing the opening ceremony of Total Grace Oil And Gas filling station located at the front of Lagos Business School (LBS).
The opening prayer and short speech was delivered by the brother of the Chairman, Pastor Richard Akinduro, who in his speech, appreciated God for what He has done for the organisation.
He said, "Anything that we want to do, I admonish each and every one of us to always put God first. And that is what Total Grace Group has been doing to excel others in the business."
The cleric then urged the guests present to continue to do good because whatever one does in this world will determine where one will be after leaving this world.
The Director of Finance, Total Grace Group, Mr. Abiodun Adu, in his own remarks, encouraged the staff of the Group to continue to be loyal and do their duty as if it is their own.
Also speaking, the Groups General Manager, Total Grace Group, Mr. Mohan Wazani,
assured that Total Grace Oil and Gas is positioned to continue to reward customers's loyalty with prizes that will change their lives positively.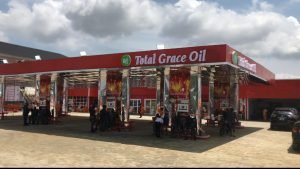 The Chairman, Total Grace Group, Dr. Akinduro while speaking with journalists after the commissioning of the new mega station he commissioned, reiterated that the entire Total Grace Group, of which Total Grace Oil and Gas is an arm, cannot afford to treat customers with levity, maintaining that it is when the customers are happy that the group will continue to move forward.
According to him, the monthly raffle draw will start at the mega station as it was introduced to appreciate customers and let them have a sense of belonging of been part of the company, stating that by winning a prize the company has succeeded in contributing to the upliftment of the customer who will not hesitate to propagate the good deeds of the company.
Akinduro said, "The monthly raffle draw is our own little way of rewarding loyal customers who believe in us and do not hesitate to patronize us. Thus I want to assure our teeming customers that not only Total Grace Oil and Gas but the entire Total Grace Group, is ever ready to reward their loyalty because to us they are nothing but our partners in progress.
"The monthly raffle draw would continue next month July because we also believe that it is an opportunity for us to contribute to the economic development of the customers."
He added that the company would continue to serve the customers better by selling clean fuel at the rate of N161 per litre that will not affect their business negatively, notng that Total Grace Oil and Gas could not afford to toy with its good name.
Present at the ceremony include notable Nollywood actors and actresses, the cream de la cream of the society such as Funke Akindele, Prince Jide Babs, Prince Dele Odule, Peju Ogunmola Omobolanle, Pastor Abiodun Paseda of Agape Oil and Gas, staff of Total Grace Group Staff, among many others.
Also present were the leadership of the Nigeria Union of Journalists (NUJ), Oyo State Council, led by the Chairman, Comrade Ademola Babalola, while ace Reggae Music act, African China, was on band stand.