The Synagogue Church of All Nations (SCOAN), Tuesday, July 6, held a Service of Tributes in honour of its founder, Prophet T.B. Joshua, who died on Saturday evening, June 5 died in Lagos, six days to his 58 birthday.
The service, which was one of Joshua's burial activities, was held at SCOAN premises in Ikotun, Lagos State.
The service, which commenced at about 11:00.a.m. at the church premises, witnessed the presence of the Aare Ona Kakanfo of Yorubaland, Gani Adams, former minister of aviation, Femi Fani-Kayode, President Committee for Defence of Human Rights, Dr Osagie Obayuwana, Malawi traditional ruler, HRM King Willard Mswati Gomani, Nollywood actors and other international dignitaries.
Speaking of Prophet TB Joshua's impact, the wife of the televangelist, Evelyn, who said that her 31 years of marriage to the cleric was not without trials, revealed that her husband taught her to understand that trials strengthened the children of God. She added that his presence in her life made her who she is and his death would be felt across the world.
Evelyn said: "You grew the church from an eight-member assembly sitting on a mat, to the level we are today. You grew me to be the woman I am today. I stand here today to say thank you for choosing me, caring for me and nurturing me.
"Thank you for being a good father to the children; thank you for shielding me from those who were bent on spoiling our lives. You were undeterred.
"It is, however, comforting that you have gone home, after service. Sleep on, my beloved. Sleep on, my God's general."
According to Joshua's children, Serah, Promise and Heart, Joshua lived a life that would be missed by the church, the world and the family as he laid a prayerful life till his death.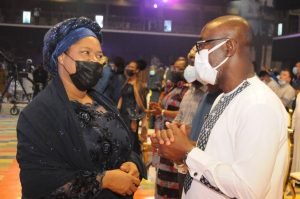 The cleric's first daughter, Mrs Sarah Joshua-Moshi, said that her father taught her everything she knew about the word of God.
She said: "I will truly miss your wisdom, knowledge, your mystery and your humour. You have lived a life of unwavering commitment to passion and service. I have no reservations to say that my dad had the biggest heart that I know of and he was a true humanitarian to this nation. What a feat you have left for all of us to live up to."
Promise, the second daughter of the late prophet, said as devastating as it was to hear the news of her father's death, she couldn't say she was completely unprepared for it as T.B. Joshua would always remind her that he was on a mission on earth.
In Heart's tribute message to Joshua, the youngest daughter of the televangelist stated that she does not have enough words to express the passing away of her father because she would greatly miss him.
His son-in-law, Mr Brian Moshi, said that TB Joshua lived an exemplary life of service to God and humanity.
Moshi said that his father-in-law could do many things at the same time.
Meanwhile, Gani Adams said the country has lost one of the greatest men in Africa.
He said: "I believe we have lost one of the greatest Nigerians in Africa. He is a pastor to be reckoned with globally. It is very sad that we lost him at an early age but we love him, his creator loves him. I am using this opportunity to console his wife, Evelyn. I told her while leaving that I would be in touch with the family no matter the situation."
The former minister of aviation, in his tribute, said his first encounter with the late prophet was in 2016, during his imprisonment in Abuja. He said Joshua reached out to him through a phone and revealed the date of his release.
Meanwhile, the president of South Sudan, Salva Kiir, has handed over the key to the Republic of South Sudan to Joshua's family as a tribute to the memory of the prophet and for his contribution to fostering peace in the region.
The representative of the president, Pastor Peter Aueai, who presented the key, said Joshua's visit to South Sudan restored peace to the country since 2013.
He added that prior to Joshua's visit, multiple reconciliatory efforts had been made to restore peace in South Sudan and that Joshua's visit and the popularity of his Christian television network, Emmanuel TV, wields huge levels of influence in the country.