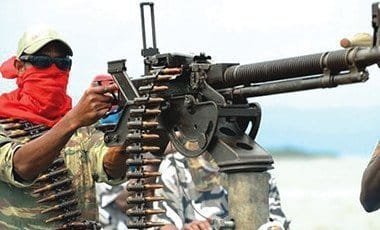 THE Niger Delta Greenland Justice Mandate, NDGJM, a militant group in Delta State, yesterday, claimed that its strike force blew up the Afiesere-Ekiugbo delivery line, operated by the Nigeria Petroleum Development Company, NPDC/Shoreline Petroleum at Ughelli, Delta state, on Sunday.
In a statement by self-styled Gen Aldo Agbalaja, the group said: "The Opudo strike force, at about 11:30 pm on Sunday, September 18, 2016, struck the Afiesere – Ekiugbo delivery line in Ughelli, operated by NPDC/Shoreline."
"The Operation Crocodile Tears is not slowing down, but determined to achieve target. Until the federal government takes the proper steps, this song will continue to play," it added.
The group asserted: "This is to once again emphasize our earlier revelation that the so-called Operation Crocodile Smile is nothing but a scam: some jumbled job, sewn together to retire some recently embezzled military budget."
"Were it a serious endeavor, as the entire military system has sought to bamboozle Nigerians and the entire world to believe, the half-baked operation would have at least been reaping marginal results, besides those wrong arrests, lacking in intelligence that it had realized," it added.