FIVE Francis Bacon paintings worth a total of £23m (€30m) have been stolen from a home in Madrid, it has been reported.
The thieves appear to have carried out a highly professional operation, disabling the alarm while the owner was away, newspaper El Pais said.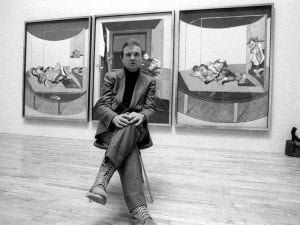 It is not clear what paintings were taken, but experts said it would be very difficult for them to be sold on the open market without a trace.
Sources close to the investigation told the AFP news agency portraits and landscapes were among the pictures stolen last June.
They said the owner's movements were tracked to make sure he did not return to his apartment during the raid.
Police have refused to comment on the report and provided no explanation as to why information about the theft had only just emerged.
The paintings are believed to have belonged to a friend of Bacon, who died in Madrid in 1992.
The Irish-born British artist is regarded as one of Britain's greatest recent painters, with some of his pictures achieving record amounts at auction.
His expressionist-surrealist works are often raw and emotional – many referencing his experiences working for London's civil defence during World War Two – and remain hugely sought after.
In November 2013, Bacon's triptych Three Studies of Lucian Freud became the world's most expensive artwork sold at auction, when it fetched £100m ($142.4m) at Christie's in New York.
It was succeeded in 2015 with the sale of Picasso's Les Femmes d'Algers, which went for $179m after fees.
El Pais said police from a specialist arts and antiques unit are running the investigation into the heist.
It is understood that the thieves left no trace in the flat.