ILE-Ife in Osun State stood still on Saturday as a mammoth crowd thronged the palace of the Ooni of Ife, Oba Enitan Ogunwusi, for the commemoration of the historical Olojo festival.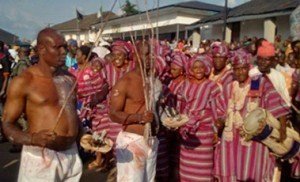 Amid pomp and ceremony, the crowd including traditional worshippers, natives of Ile-Ife, tourists, among others, stormed major streets, especially Enuwa, Iremo road, Oke'Mogun, Ilare, Oduduwa, where they struggled to catch a glimpse of the Ooni, with the ancient "Are Crown," worn by the traditional ruler once in a year.
This year edition of the festival was significant in the ancient city, being the first Oba Ogunwusi would celebrate on the throne.
Ooni, who was crowned and presented with staff of office on the December 7, 2015 had performed necessary traditional rites before wearing the crown from his palace to Oke 'Mogun and Idi-Aje spots, which were critical to the holding of the festival.
Before he emerged with the "Are Crown," the Emeses, otherwise known as palace emissaries, performed the roles of Lokoloko, wielding canes to herald the arrival of Ooni in the traditional Are crown.
Oba Ogunwusi, accompanied by mammoth crowd while leaving the palace greeted the Sookoos and also offered prayers to the gods for the peace of Ile-Ife, Osun State, Nigeria and the entire world.
At the frontage of his palace prayers were also offered, before releasing two doves to symbolise peace, after which the monarch proceeded to Oke 'Mogun shrine.
Click to share on Facebook (Opens in new window)Click to share on Twitter (Opens in new window)Share on Skype (Opens in new window)Click to share on WhatsApp (Opens in new window)