By Seyifunmi Odunuga
Chairman of the Nigeria Union of Journalists (NUJ) Oyo State Council, Comrade Ademola Babalola and an Ibadan-based multilingual business mogul and body fitness expert, Ambassador Romoke Ayinde, were among eminent persons honoured at the Prominent People's Award on Thursday, June 4, 2021.
Expressing her feeling after bagging the award of honour, Ambassador Romoke Ayinde popularly known as Kayrom Lee said: "I am highly delighted even though this is not the first time I am getting this. This is just an addition to my collection of awards. This latest one shows that I am still appreciated. And it will motivate me to continue to impact positively on society with my resources. Because I believe my possessions are meant to serve humanity".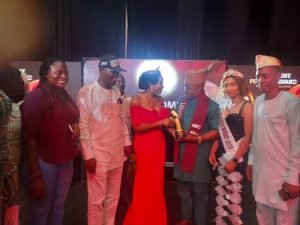 The Chairman of Oyo NUJ also expressed his delight over the award of honour bestowed on him.
"I feel on top of the world. This award is for all journalists in Oyo State whose supports made this possible. I will continue to serve them to the best of my ability", he said joyfully.
The two awardees also thanked the Organiser of the Prominent People's Award, Mr Ajibola Afolayan for deeming them fit for the awards.
Other awardees included the Chief Executive Officer of Titan Farms Chief Gbenga Eyiolawi, a veteran Nollywood actress Binta Ayo Mogaji, three Broadcasters working with Fresh FM Ibadan, Isaac Brown, Adesina Jagunmade and Dare Adekanmbi among others.
The fun-filled Awards attracted the creme de la creme in Ibadan including the Olubadan of Ibadan land Oba Soliu Adetunji Aje Ogungunniso 1, a former CAF and FIFA Technical Instructor who is the first indigenous Manager to take the country's Male National Football Team to the AFCON final and the World Cup, Chief Adegboye Onigbinde, an ex-international Dr Felix Owolabi Akinloye as well as celebrities including popular thespians and On-Air Personalities.