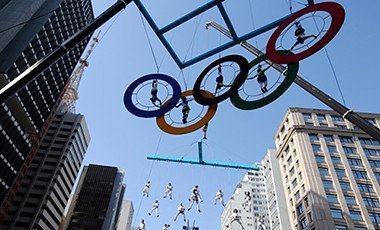 LOS Angeles has announced its intention to host the 2028 Olympic Games, leaving Paris to stage the 2024 edition.
In June, the International Olympic Committee (IOC) voted to name hosts for successive Games – with just Paris and Los Angeles bidding – but it was unclear which would host in which year.
Both had wanted to host the 2024 event.
Los Angeles bid committee chairman Casey Wasserman said "both cities now stand together ready to serve the Olympic and Paralympic movements".
A source close to the negotiations told BBC Sport that for LA to have accepted the 2028 Games there will have had to have been significant financial benefits that outweigh the benefit of hosting in 2024.
The International Olympic Committee wanted LA and Paris to reach an agreement by September and had they not, a vote to select the 2024 host would have been held.
In June, Wasserman appeared to concede to Paris when he said: "We have never been only about 2024."
However, a spokesman later told BBC Sport: "LA is the ideal host city for 2024 and is not conceding anything in the race for the 2024 Games."
Paris has said it has to go first as the site it has earmarked for the Olympic Village will not be available for redevelopment after 2024.
Los Angeles had argued that it could host a low-cost Olympics given that it already has all the necessary infrastructure in place, while Paris would need to build several expensive structures.
The two cities were the only ones left in the race for 2024 after Budapest, Hamburg and Rome withdrew.