BANGLADESH's central bank governor, Atiur Rahman, resigned on Tuesday following demands of accountability from the government after $81 million was stolen from the bank's U.S. account in one of the largest cyber heists ever.
Rahman, who returned to Dhaka late on Monday after attending a weekend International Monetary Fund conference in New Delhi, told Reuters that Prime Minister Sheikh Hasina had accepted his resignation.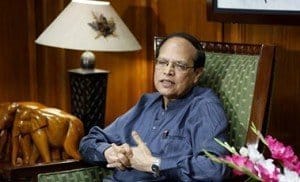 The government also fired two deputy governors of the bank, Finance Minister Abul Maal Abdul Muhith said, days after blaming it for keeping the government in the dark about the theft.
Rahman, 65, said he resigned to set an example in a country where there is not much precedence of accountability and to uphold the image of the central bank
"I took responsibility," Rahman said.
A former finance secretary, Fazle Kabir, would be the new governor, the finance minister said.
Unknown hackers breached the computer systems of Bangladesh Bank and attempted to steal $951 million from its account at the Federal Reserve Bank of New York, which it uses for international settlements, between Feb. 4 and Feb. 5.
They managed to transfer $81 million to entities in the Philippines, and the money was further diverted to casinos there.