PRESIDENT Muhammadu Buhari has revealed that he had assurances from All Progressive Congress (APC) National Leader, Asiwaju Bola Tinubu, not to work against the interest of the party in the just concluded Ondo State gubernatorial election.
He has also dismissed widespread speculation that he was at odds with the former Lagos State governor.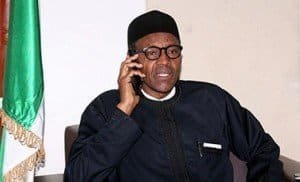 According to a statement issued by his Senior Special Assistant on media and publicity, Garba Shehu, in Abuja on Monday, the president described the rumours as unfounded and mischievous.
It said the President was highly embarrassed by such "suggestions" and that president was in regular contact with Tinubu before, during and after the Ondo gubernatorial election.
The statement quoted Buhari as saying that any suggestions that he and the party machinery were working to destroy Tinubu had no foundation in truth or any credibility.
The statement explained that the president was "impressed by Tinubu's assurance not to work against the party in Ondo and he honoured his words."
The Presidential Media Aide also explained that President Buhari regards Tinubu as a priceless political asset to the party whose immeasurable contributions to the development and progress of the ruling party are known to all.
He advised rumour mongers stop spreading the seeds of discord and animosity between the President and Tinubu or the party, adding that the President is proud of the Jagaban and his pivotal role in the party and the movement.
According to the presidential aide, Buhari commended Tinubu's spirit of comradeship in promptly congratulating Rotimi Akeredolu who was elected governor.
The President also noted that at a time his administration was preoccupied with governance issues, rumours of divisions and alleged scheming within the party were counterproductive to internal unity and cohesion in APC.
The presidency therefore appealed to APC members and supporters to ignore rumours that could harm party unity.