THE Senate Committee on Culture and Tourism condemned the absence of the Minister for Information and Culture, Alhaji Lai Muhammad, at the Public Hearing on a Bill for an Act on the Nigerian Tourism Development Authority (NTDA), on Thursday.
The Chairman of the committee, Senator Matthew Urhoghide, expressed the displeasure of the committee to the absent of the minister.
Recall that the Minister was absent at the first reading of the Bill, but was represented by Director, Policy Analysis, Research and Statistics (PRS), Federal Ministry of Water Resources former Acting Director-General of the NTDC.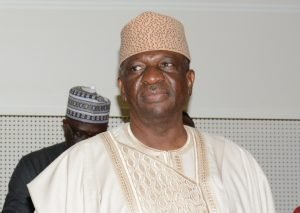 Urhoghide resorted: "This agency is a parastatal is under the Ministry of Information and Culture, and I want to say that the ineptitude you see in the industry is attributable to the supervising ministry, particularly with the arrangement you have now which is Information and Culture. There is no recognition given to the Culture and Tourism arms of the ministry.
"I want to say it without apologising to anybody, if a Minister doesn't have time to come, he should have sent the Permanent Secretary so that we know the position of the ministry or the government. Even of they are against the bill, let.them give us an alternative, because things are not working in the industry, and nobody can deny that.
"If the National Assembly, the Senate in particular is interested in changing the fortunes of our people, of our land, I think it behinds on the Executive Arm see to it that we are partnersin progress.
"We take exception to this. This is very unfair and it is unfortunate. These is an Individual Bill, it ought to be an Executive Bill. The ministry ought to have raised this Bill, through the Minister, then of course to the Anthony General of the Federation, Ministry of Justice and then the Federal Executive Council (FEC).
"It is quite unfortunate. Nobody from the Ministry is here. It tells the volume of your disposition to these things. It is very appaulling and we.take exception to that as a committee."
A member of the committee, Senator Babajide Omoworare, who corroborated Senator Urhoghide's reactions to the absentism of the Minister said it was appalling for the supervising minister of the ministry to be absent at the Public Hearing concerning one of the parastatals under his supervision.
While calling for the move and push of the committee's position on the Bill, Senator Omoworare said: "It is important to note that we can move on at the proceeding. We are hear for a purpose and we must pursue the purpose not minding the absence of the Honourable Minister.
"We must push for the separation of Culture and Tourism from the Ministry of Information, and put it either under the Presidency or make it a separate Ministry."
Get real time update about this post categories directly on your device, subscribe now.