SOUTH East zonal youth leader of the People's Democratic Party (PDP), Comrade Chidiebere Egwu, blamed hunger, starvation and intimidation of the opposition on bad leadership of the ruling All Peoples Congress (APC); saying "they claim they are fighting corruption, they are merely victimizing the opposition."
Egwu, who spoke with newsmen in Enugu, claimed that with the successful hosting of the recently concluded convention of the PDP, the party is set to upset the ruling party in the 2019 general elections.
He congratulated the party for a successful convention high he said it shows that PDP is set to reclaim its position as the ruling party. "I also congratulate the former Vice President Atiku Abubakar for coming back home to join in preparing the repackaging the party ahead of 2019.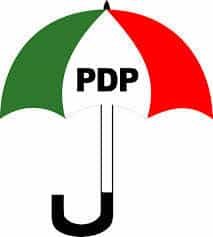 He urged PDP youths across the country to remain steadfast and continue to talk to those who lost hope in the party to return because, in his words, "this is a new PDP and with the election of a new executive led by Uche Secondus I strongly believe that it will not be business as usual.
Egwu expressed belief that with the reconciliation going on in the party everybody will reunite to make the party stronger.
He dismissed claims that PDP is a regional party and urged party members from the South West not to listen to what other parties are saying about the PDP stressing that already APC has disappointed Nigerians.
"Today in Nigeria there is hunger, starvation, there is also intimidation; even when they claim they are fighting corruption, they are merely victimizing the opposition.
"The PDP must remain united and continue to deliver the dividends of democracy to the grassroots as we get ready to recover our mandate come 2019; APC should be packing their bags and baggages because their time is up.
"They have failed to address the economic situation of the country, fuel scarcity has returned, and the people are suffering. I urge all PDP youth to remain focused and reliable because only the PDP can save Nigeria from its present economic and political woes.
"The party has realized its mistakes and is putting its house in order ahead of the next elections because it is PDP that can put smiles on the faces of Nigerians again.
"We have learnt from our mistakes and our party is bouncing back and ready to take its rightful position in the politics of the country. Nigerians are lamenting and suffering hunger and starvation; but I assure Nigerians that it is only the PDP that can rescue this country from its present situation.
"We have no doubts that we are going to dethrone the APC in 2019 because Nigerians are tired of them. I can assure Nigerians that only the PDP can solve Nigeria's problems. All the promises they made they have failed to live up to it rather they have continued to sack people from their jobs; Kano and Kaduna states are typical examples.
"It is also worthy of note that all PDP governors are performing and delivering the required dividends to their people."