THE Presidency, Thursday threw its weight behind state policing to address the prevailing wave of insecurity across the country.
President Muhammadu Buhari, represented by Vice President Yemi Osinbajo, who said this whille d
eclaring open a two-day Summit on National Security organised by the Senate in Abuja, explained that 
every Nigerian deserves the protection of his life and property.
He as well admitted that there were instances where security agencies failed to properly and urgently respond to security issues, while 
noteing that the police as currently structured, was too defective to address the growing insecurity in the country.
Osinbajo then stressed the need for the number of police personnel to be increased drastically, just as he cautioned stakeholders in the country not to allow the current insecurity challenges assume religious dimension.
He however, disclosed that 15 states have agreed to allocate 5,000 hectraes of land for cattle ranching and livestock production.
Need for State Policing
His wordsy: "It will be recalled that the Senate had, on November 30, 2017, inaugurated the Ad-Hoc Committee on Review of Security Infrastructure in the Country.
"This came about, because we were increasingly concerned at the spate of crises and insecurity in many parts of the country, and knew that we needed to do something about it. The committee had a broad mandate; to look into the problem and prepare a report outlining a different approach for dealing with the issue.
"The first is that the nature of our security challenges are complex and nuanced. Securing Nigeria's over 923,768 square kilometres and its 180 million people, requires far more men and materials than we have at the moment. It also requires a continual re-engineering of our security architecture and strategies.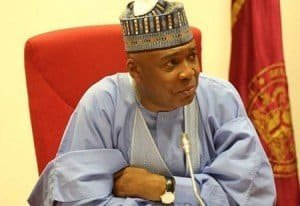 "This has to be a dynamic process. For a country our size to meet the one policeman to 400 persons UN prescribed ratio, would require nearly tripling our current police force, far more funding of the police, military and security agencies is required.
"Secondly, we cannot realistically police a country the size of Nigeria centrally from Abuja. State Police and other community policing methods are clearly the way to go."
Also speaking at the summit, Senate President, Dr Bukola Saraki, said what was required at the moment to nip in the bud cases of killings, kidnappings, mayhem and general lawlessness was a leadership with the will to douse the flickering flames on insecurity and reduce the  tension in the land.
The summit 
was shunned by the 36 state governors.
Get real time update about this post categories directly on your device, subscribe now.