Mr and Mrs Bayode of Onibudo Street, Sango-Ota, Ogun State have appealed to the public for financial assistance to treat their 3-year-old boy, Nicholas Bayode who has Cancer of the Eyes (Retinoblastoma).
The parent's appeal was contained in a short piece of writing that was personally issued by them and made available to Reporters At Large.
Nicholas' Parent appealed to the people of Nigeria to help them with Eight Hundred Thousand (#800,000) to safe their 3-year-old boy who has admitted at Lagos State University Teaching Hospital (LUTH).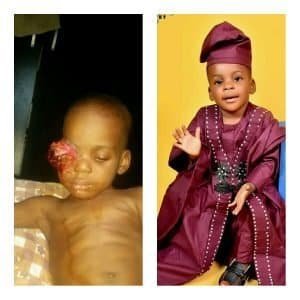 The parent's account and phone numbers are stated as follows:
Account Name: Bayode Joy
Account Number: 0075127212
Bank: Access Bank
Phone Number: 08164422688