Walai talai, I don't mind him sacking me tomorrow as his Senior Special Assistant on Tourism Development. I don't mind him removing me after reading this article,
For, no one can shut up my mouth from saying the truth. Yes. I don't give a hoot. Let's call a spade a spade.
Tell me, is Governor Dr John Kayode Fayemi a Nigerian politician? Is he a political animal who is expected to be ruthless, selfish, egoistic, obscurant and of self-perpetuating initiatives
What is wrong with His Excellency Dr John Kayode Fayemi? Yes, something is wrong with him.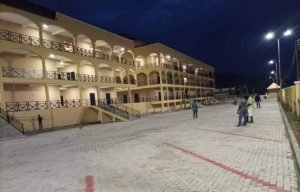 Why? Governor Fayemi, why? Where are you from? Why are you doing this? Dr Fayemi! Is it because you are well brought up? Why are you doing this? Is it because you are a thinker?
Why now? Dr Kayode Fayemi, are you a Nigerian?
Please tell me. Why are you doing this? This is wrong with you? Why can't you behave like other governors?Why? Dr Fayemi, Why?
Ma/Sir, look at this structure? It is not an Ekiti building? This is a multi-million naira or billion naira hospital. Built by the former Governor of Imo State now Senator Rochas Okorocha, a gargantuan edifice built from the fund of the state for the state. But just because the hospital was erected by his predecessor, the current Governor has demolished it.
Just like that! Good governor abi? This, I am now wondering why my Governor, Dr Kayode Fayemi cannot do so.
When he has all the reasons on the earth to demolish all the egeremiti (ill-constructed and ramshackle) projects which his predecessor forced on the state, I am wondering why he chooses not only to rectify the abnormally in the so-called projects of his predecessor but to add more architectural value unto them ala Justice Ajakaiye Ekiti State High Court Building and the Ado Ekiti Central Market, two of the egeremity projects built by his predecessor.
Don't you think Governor Fayemi must be crazy not to behave like his Imo State counterpart
Who out of senselessness demolished this beautiful hospital?
Well, I now realised that Dr Fayemi is not crazy neither is he a mad person but he is proving to all and sundry.
He is a philosopher Governor, a Governor who thinks not a Governor who drinks, not a Governor who holds Oloso night at Governor's House. He is a Governor who fears God, a Governor who daily seeks the best for Ekiti, a Governor without any certificate controversy. He is not a Governor who parentage is immersed in controversy but a proactive personality who earnestly thinks seeks and drives development initiatives for his state.