By Seyifunmi Odunuga
As part of his efforts to foster peace, unity and outstanding synergy among South PDP, the National Vice Chairman, Amb. Taofeek Arapaja, has met with some selected leaders of the party in Oyo State and other Southwest states.
In attendance were Alhaji Bisi Olopoeyan, Alhaji Nureni Akanbi, Hon. Femi Babalola, Mallam Yusuf and Michael Ogunlade are aggrieved one way or the other.
In a statement signed by the Special Assistant on Media and publicity to the PDP National Vice Chairman South West, Bamitale Ibrahim made available to newsmen in Ibadan, Ambassador Arapaja in his remark hinted that leaders at the level of the meeting should appreciate the fact that one of them that had gone through late Adedibu Political orientation is today occupying the position of National Vice Chairman of the party.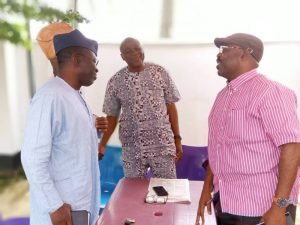 He stressed further that all hands must be on deck to protect the interest of our late leader, Alhaji Ariyibi Adedibu and the need to avoid anything that could cause acrimony should be discouraged.
Nigerians are eagerly waiting for our party to form the next government that will bring succour to them.
According to him, "it's imperative that we all put our hands on deck for the success of the party as it would be wrong to continue experiencing a crisis in our domiciled state.
"If this trend continues, it'san advanced way of writing invitation letters to the 2011 experience," he quoted.
"Though grievances, conflicts and misunderstanding are unavoidable in humaninstitutionsn, the ability to manage ourselves is very essential and it'sthea the best way to describe family affairs.
At this point, the only thing needed for us is to chat a way forward to put an end to this lingering crisis," Arapaja warned.
In their separate remarks, Engr Femi Babalola, Alhaji Bisi Olopoeyan and Alhaji Nureni Akanbishows their displeasure with Governor Seyi Makinde's styles of leading the party for not handling the party, adding that they expected the Governor to have listened to their grievances since inception.
They disclosed that they have decided to retract some of their plans to embark on plans which could have polarised the party because of Ambassador Taofeek Arapaja's status and timely intervention.
They however expressed their readiness to embrace peace and genuine reconciliation once the Governor is ready to come to terms with them and critically look intothe matter of concerned.
On the entourage of Ambassador Arapaja are Chief Mrs Mutiyat Olayinka Ladoja, Alhaja Bose Adedibu, Hon. Adedoja Abiodun Ekolo, Hon. Fatai Adeshina, Hon. Dele Ojo among others.