WALE Ojo-Lanre, former Chief Press Secretary to the former Ekiti State Governor and the All Progressive Congress (APC) chieftain, Engr Segun Oni, has raised an alarm over the threat to his life by the staff of the Nigerian Tourism Development Corporation (NTDC).
The threat to the life of the Associate Editor (Tourism) of the Nigerian Tribune newspapers followed what he posted on his Facebook account, Wale Ojo-Lanre, on Thursday, December 1, 2016 at 10:54am which reads: "Destructive journalism on AIT by Gbenga Aruleba! Pure destructive journalism against a person."
One of the staff of the corporation, Mr Solomon Owoleke, then commented on the post, saying "Wale, l have just been mandated by the entire NTDC staff to inform you that any day you are seen @ our office premises you will been lynched. Be warmed."
Not fewer than 15, among about 20 persons who reacted to the threatening comment of The NTDC staff, condemned in stong terms, the threat to the life of the international award-winning tourism writer.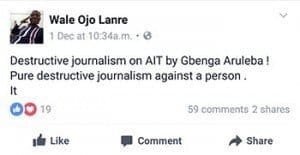 Solomon Owoleke then reacted: "l was brought up to respect everybody l come across especially those who l have never met. But for the person who l have known for over 10 year l can chose to honour him or otherwise through his character/behaviour. For all of you who l do not know one on one,l don't have any thing against you. As for the cash and carry, traitor, betrayal and ingrate OJO WALE LANRE he knows the gravity of the message l posted. The simple message to him this time around is he should take his cultery to other places for food not NTDC again. NTDC staff are wiser now to let him know his bread and butter tourism promotion has ended here @ NTDC GBAM!!! Once again, none of you who is not useless grand – pal will l respond to."
In one of his comments to Wale Ojo-Lanre's post on the removal of the former Director-General of the corporation, Mrs Sally Mbanefo, Owoleke says, "See your life. grand pal lied, can u sincerely say you still have Otunba number in your phone? I am Otunba boy any day any time with honour. But not chamleon like you, You will soon dope Mimiko after which Sally will follow. You are good at writing any story provide your bread is butter there… MR STOMACH INFRASTURCTURE TOURISM WRITER.. SLEEP WELL."
Ojo-Lanre, reacting to the threat on his life then posted of his second Facebook account, Wale Ojo-Lanre II, on Tuesday, December 6, 2016: "Help! Nigeria Tourism Development Corporation, NTDC is after my life!"