DON'T MISS
THE Special Adviser to President Muhammadu Buhari on Media and Publicity, Mr. Femi Adesina, had insisted in an interview he had with journalists that the...
LATEST NEWS
APPLE'S launch of the iPhone 8 this year was muted compared to previous phone launches. Now product testers at a US consumer choice magazine say...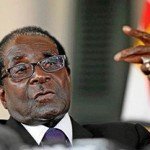 •Appoints Minister For 'Whatsapp And Facebook' ZIMBABWEAN President, Robert Mugabe, has created a ministry to punish "rats" who make use of the cyberspace to attack...
THE Senate on Thursday resoled to probe how the Paris Club Refunds and other bailout funds to state governors by President Muhammadu Buhari were...
POPULAR ARTICLES
•Writes National Assembly Of His Resumption PRESIDENT Muhammadu Buhari resumed work, on Monday, at about 11:20am, but operating from his official residence. This, according to a...
SOME 150 Russians were behind much of the violence that erupted in Marseille when Russia played England in Euro 2016, French prosecutors have said. Ten people,...
THE Senate, on Wednesday, summoned the Minister of Finance, Mrs Kemi Adeosun and the Governor of Central Bank of Nigeria (CBN), Mr Godwin Emefiele,...
LATEST REVIEWS
SENEGAL, a neighbouring country to Gambia has given President Yahaya Jammeh till midnight to step down otherwise military action would be engaged to oust...