Says Fayose Should Apologize To Nigerians
THE Arewa Youth Integrity Forum (AYIF) has said last Wednesday's visit of the wife of the President, Aisha Buhari, to the United States of America has put those who tried to drag her good name into the Halliburton scandal to shame.
The youths said it is obvious that Ekiti State governor, Mr Ayodele Fayose, lied to Nigerians about his earlier claim that Mrs Buhari was a fugitive from justice in the US over the Halliburton scandal.
The youths, therefore, urged the wife not to relent on her life changing activities and should rather increase the tempo upon her return from the United States.
Addressing journalists in Abuja, AYIF national president, Comrade Abubakar Ibrahim said the Ekiti state governor must immediately appologise to Nigerians and the first family as this visit by the President's wife is a further proof that Fayose lied in his claim about Mrs Buhari.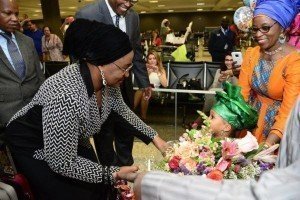 He also urged President Muhammadu Buhari not to be distracted by the antics of corrupt persons who are determined to discredit his anti corruption crusade.
He said, "We pointed out this visit because of its significance to what had transpired earlier when Ekiti State Governor, Ayo Fayose came up with his tales by moonlight in which he vigorously tried to mislead the public with claims that Mrs Buhari was a fugitive from justice in the US over the Halliburton scandal. Various persons that set the records straight that the wife of the President was not the same 'Aisha Buhari' mentioned in the court documents were ridiculed and bad mouthed.
"May we remind Fayose that Mrs Buhari was not the one who was recorded in a hotel suite conspiring with others to breach the Electoral Law. The first family did not tell him to engage in money laundry involving billions of naira ferried from one airport to another. It was not Mr President that made the lodgement of proceed of crime into the Ekiti state governor's bank account. It was not northerners that made Fayose to be richer than Ekiti state neither were we responsible for his inability to sell his family to pay salaries to workers' whose money he has diverted into his personal account.
He said now that Mrs Buhari's visit to the United States has confirmed that Fayose wasnt telling the truth, "we are calling on him to apologize to the first family, and Nigerian women."
Ibrahim said Fayose should rather focus his energy to explain his misrule to Ekiti people when his tenure expires.
He said, "We see the vintage Fayose, upon realising that his lies have been found out, desperately looking for a way to distract the nation by calling attention to the handbag Mrs Buhari was holding in one of the pictures from the US. This obvious attempt to trivialize the issue with the woman's bag is a new low for Fayose even by his own standards.
"Our expectations are that beginning with Ekiti state at the end of Fayose's tenure the electorates would insist that psychiatric evaluation and a consequent certificate of mental competence would be requisite for all the candidates seeking elections."