A unique innovation is set to sprout up in the circular music industry with the release of  AfricaRomantica, an official single by Elusiyan Eluwole, popularly called Omo Elu, the fast growing classic entertainer, whose music is a blend of Afro and Hiphop.
Eluwole, a music producer, singer, software engineer and a Saxophonist disclosed that the single would revolutionalise the circular music industry.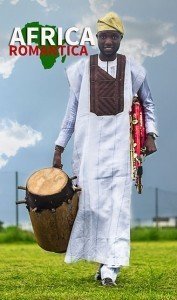 The music graduate of Obafemi Awolowo University (OAU), Ile Ife, and Computer Science at Yaba College of Technology Lagos said the single would be released on Sunday, August 24, 2016 on all prominent music websites.
According to Omo Elu, a man of influence who  annually impacts lives with his Getup Charity Concert, a concert that is dedicated to the less privileges in the society, "my fans, and good music lovers at large should expect pure African Music."
Omo Elu's band, Getup Band, is a set of  great musical potentials in Nigeria, committed to the highest standard of excellence and professionalism.
The live band goes the extra miles to ensure that the unique of personalities of celebrants are reflected throughout the events.
Getup band provides live music to corporate and individual clients from all spheres of influence, delivering a totally unique and exiting musical experience.
Getup Band, which is a toast of the Ooni of Ife, His Imperial Majesty, Oba Adeyeye Eniitan Ogunwusi (Ojaja II), among other high profiled personalities in Nigeria, skillfully renders a cross-section of music like African music, hip hop, high-life, jazz, rhythm & blues, reggae and tungba.