NEWLY reinstated National Chairman of the Peoples Democratic Party (PDP), Senator Ali Modu Sheriff, has appealed to state governors elected under the party to sheath their sword and give him the chances to rebuild the party.
Speaking while receiving some South West party leaders loyal to Senator Buruji Kashamu at his temporary secretariat in Abuja on Wednesday, he said his only interest was to return the party to its 1999 status.
Most PDP governors led by the chairman of its Governors Forum and governor of Ekiti State, Ayo Fayose, have failed to recognise his leadership even after the Court of Appeal decision which went in his favour.
In view of this, the party boss appealed to those not satisfied to take their case to the national convention and elect whoever they prefer.
He said he would not join issues with governors who had continued to speak against him especially Fayose who he said he would not descent to his level.
Sheriff reiterated that the Appeal Court victory was not just a victory for himself but for all members of the PDP.
He said: "If you want to change something, go to the convention and vote for the person you like. Our governors are important. I beg them not to divide the party.
"Let everybody be united. For Gov Fayose, over some of the things he said, I will not join issues with him. Doing that will mean coming down to his level and I will never do that.
"Whatever we do today, posterity will be the judge."
On the court victory, he said: "This victory is for every member of PDP. There's no loser. Yes, people can vent their anger. They can say what they want to say but as a father and leader I want to reunite the party.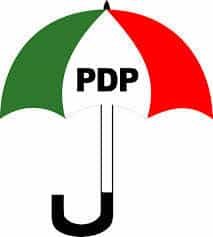 "I can't join issue with anybody. I want to bring PDP to the position of 1999. No matter whatever people may say, PDP is loved in the grassroots."
The party boss reaffirmed that he would not seek to remain as party chairman indefinitely as he would exit office after the successful conduct of the yet to be fixed national convention.
"Ali Sheriff is not here to remain here. As soon as we do convention, I'm leaving but I want to make sure we do a credible convention where those elected will be accepted," he declared.
Sheriff announced that by Friday next week, the national secretariat of the party which had been sealed off by the police since May 2016, would be reopened.
He said he had already sent all legal documents to the police that should cause the Wadata Plaza, Abuja offices to be reopened.
"Between now and Friday, we will move back to the secretariat. We have transmitted all legal documents to the police who said they wanted to avoid chaos," he said.
The Chairman also recalled that both factions of the former opposition party had agreed that their differences would terminate at the pronouncement of the Appeal Court but was surprised that the verdict had still not been accepted by members loyal to the National Caretaker Committee despite the agreement.
According to him, "We agreed that Court of Appeal will be the final. That was our agreement before now. The court of appeal has made a pronouncement that the status quo ante remains."
But he restated that the "as of today, there is only one PDP," adding: "We came into the party through a process."
On the south west leaders' visit, he thanked them for energising and giving him the courage to forge ahead, promising that before long, they would see what he would do.
Speaking at the occasion, leader of the group and PDP Zonal Chairman (South West), Makojuola Ogundipe, said they were there to rejoice with Sheriff for the "hard earned victory" at the Court of Appeal.
He said the PDP in the south west led by Kashamu was behind the Chairman, but admonished him to bring all members together.
"South west is very settled behind you because we have somebody like Senator Buruji Kashamu who has spent a fortune," he said.
Members of his delegation included Olaoluwa Ganiyu, Hakeem Taiwo, Ajayi William, Soji Adagbodo, Biyi Poroye, Adebayo Dayo, and Peba Otemolu.