A mammoth crowd of supporters thronged Lokoja and Kotonkarfe metropolises in Kogi State to receive Vice Admiral Usman Jibril's campaign train on Tuesday.
Jibril was in Lokoja and Kotonkarfe, respectively, to officially inform the All Progressive Congress (APC) party members in Kogi State and the people of the state about his intention to contest for the 2019 Gubernatorial election in the state.
Jubril, while addressing the gargantuan crowd, said that his visit was not only to inform them of his intention to contest for the governorship of the state but to also raise their hope of a greater Kogi State which they would be proud of.
"I am here, not to tell you about my intention to serve people of this great state, but to assure you of an all-round better and developed Kogi State, where everyone in the state, both the indigenes and non-indigenes would enjoy the dividends of democracy, wealth would be created to drastically reduce the spate of poverty in the state.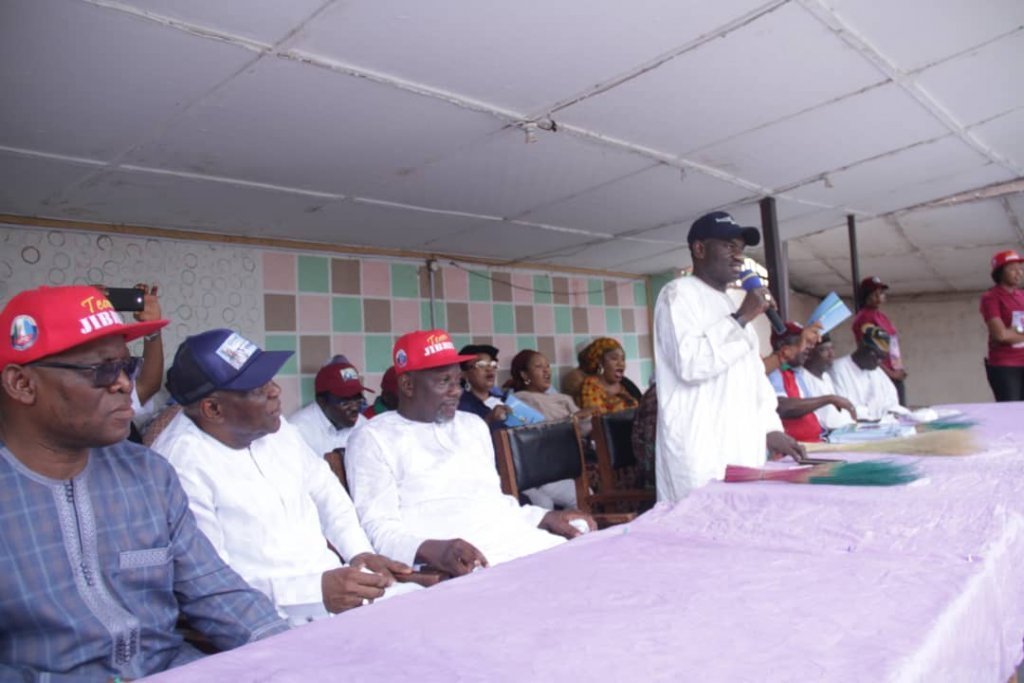 "To actualise this great vision of the restoration of hope in Kogi State, I enjoin all the party members of our great party to support my candidature and vote for me en-mass, thereby ensuring I emerge the APC gubernatorial candidate for the November election. While I also seek the support of the great people of this state to utmostly ensure my success at the poll."
Jibril commended the people for welcoming him and assured them of his determination to restore their hope in a great Kogi State and move the state to the next level.
While on the campaign tour, the APC gubernatorial aspirant in Kogi State also paid a courtesy visit to the party secretariat to discuss with the party executives. Afterwards, he proceeded to Maigari of Lokoja's Palace and later to his campaign office.
Jibril also met with the Koton Karfi where he paid a homage visit to Oyemeighe of Koton Karfi, and from there to Abuja to submit the Nomination Form.
Meanwhile, a political Group G30 in Lokoja whose membership cut across all the 10 wards in the metropolis and also includes APC executives and stakeholders, donated a Toyota Siena campaign vehicle to Usman Jibrin Rescue Team.
Speaking at the commissioning ceremony, Alhaji Kashim Mabo, the Shetima of Lokoja said the group has done well and should extend their membership to other LGAs.
He said from today the group will be an ambassador of the Usman Jibrin Rescue Team.
The coordinator of the group, Mallam Yakubu Isah, said Lokoja is a no go area for the incumbent governor of the state, Yahaya Bello, either direct or indirect primaries.
Isah then assured the Rescue Team of total support, loyalty and commitment to assuring success at the primaries.
In appreciation, the former Naval boss while commissioning the Vehicle assured the G30 of a good and transparent government that would ensure prompt payment of salaries and creation of jobs for the teeming youth when elected.