The name, Olatunde Oginni means different things to different people. To some, he is a consistent and successful businessman. To others, he is a philanthropist who has been giving back to society in his little way. But from whichever perspective you might like to classify him, you cannot but appreciate his first-class brain, his high taste for excellence and his never-die-spirit.
HRH Olatunde Oginni, the Olodogbo of Odogbo-Ijesha, who has been making money right from a younger age, by 24/25, sits atop a vibrant business empire which includes Tiger Beach Limited, Flogin Natural Resources Limited, Tiger Flo Security and De Executive Suites, Bodija, among others.
His excellent entry and exploit in the hospitality industry, with De Executive Suites, dazzled stakeholders in the hospitality industry and good hospitality services buyers.
Alas! The referred royal father, Olatunde Oginni is up to another classic and excellent stride in the hospitality industry.
This time, the hotel is christened University Teaching Hospital (UCH) De Executive Suites.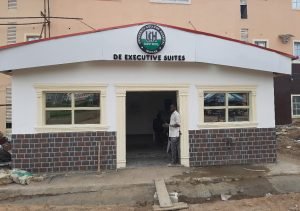 You cannot miss the magnificently imposing architectural feat right in front of the Emeritus Professor Theophilus Oladipo Ogunlesi Multipurpose Hall, located inside the teaching hospital.
It is one hotel, which the economic conducive atmosphere created by the Chief Medical Director of University College Hospital (UCH) Ibadan, Professor Jesse Otegbayo, has attracted to the teaching hospital.
Thus, anybody seeing the sheer beauty of the complex of pleasure and hospitality heaven called UCH De Executive Suites, might think that place is good for that.
The suites is for those people that can make use of a hotel that has "optimum service to customers" as its vision of service.
It is for the corporate organisations fit enough to desire a quiet countryside to hold their seminars, retreats, conferences and talk-shows in a resort centre where the ambience, the facilities and the staff are mobilized to ensure complete satisfaction and desire.
The suites in the hard-earned desires of a hotel where one can consummate relaxation, total relief from stress and value of service for one's hard-earned money.
It is for those who love to be in a hotel, where the restaurant serves both local and continental cuisine without blemish of taste.
It is that fellow who loves to take his family to a blissful family holiday's setting –a home –away from home, where all the necessary facilities; light, water, Wifi, gym and polo are made available, unceasing, seamless and in perfect mode.
The suite is for those people who desire to experience the regal services accorded kings and queens in a monarchical setting in terms of decor, luxury, opulence, foods, drinks and service.
It is for those people who want the best of hotel services. Those who understand and cherish quality services. Those who want to savour heaven on earth hospitality treatment. Only those who have taste for value, class and classical hospitality delivery are supposed to patronize this hotel.
For it is not meant for those who hate excellence in service. It is not a heaven for lovers of substandard and poor services.
UCH Hotel De Executive Suites is for those discerning hospitality buyers who want the best hotel services for themselves, their corporate organisations, friends, NGOs, churches and development purposes.
It is never a place for anyhow tourists and buyers excellently services, it is a phrase for that fellow who wants value for his/her money.
If one is in the category of excellent people, who deserve excellent hospitality services, then, UCH De Executive Suite, is good for you.
Reporters At Large learnt that the suites would be inaugurated on June 1st, 20201.