Prophet T.B. Joshua was, no doubt, a household name globally. His popularity transverse the shores of continents, nations, religion and even ethnicity. 
TBJ in the Synagogues, as he was fondly called by his wife, Evelyn, was reportedly stayed 15 months in his mother's womb before he was given birth on June 12, 1963, in Ondo State, Nigeria. 
According to the website of the Synagogue Church of All Nations (SCOAN), Joshua attended St. Stephen's Anglican Primary School (Ikare-Akoko, Nigeria, 1971-1977). He came from a poor background. He was brought up by his Muslim uncle following the death of his Christian father. He mostly wore a jalabia – a loose-fitting garment worn by Muslims, and kept a moustache that gave him an intense look. He had only one year of secondary education before he left to work on a poultry farm.
While in school, he was known as a 'small pastor' because of his love for the scriptures and gift to predict things that would happen in his community. He was also said to have been the leader of the 'Scripture Union' while in school.
He had taught children at evening classes and done some menial jobs before he had a revelation to set up a ministry while on a 40-day fast. In 1987, T.B. Joshua founded The Synagogue Church of All Nations (SCOAN) under the bridge linking Ejigbo and Egbe in Lagos State, with just a few members. The church later grew to have a large number of members within and outside Nigeria, Africa and Latin America.
Took advantage of TV ban
In the mid-90s, Prophet T.B Joshua started his ministry on television. He spoke with a Yoruba accent and a mixture of English and Pidgin. Then his church, SCOAN, began gaining international attention due to the distribution of video cassettes, showing clips of Joshua's early ministry and alleged miracles. Additionally, T.B Joshua began airing regular programs purporting to show 'miracles' on local Nigerian television. That was the time mega-pastors radically changed the face of Christianity in Nigeria with their evangelical sermons, prophecies and promises of miracles.
However, when Nigeria's broadcast regulator, National Broadcasting Commission (NBC), under the instruction of former President Olusegun Obasanjo-led administration controversially banned the airing of the 'miracles' of pastors on live TV in 2004, most of his programs were taken off the air. This eventually paved the way for the emergence of Emmanuel TV on 8 March 2006.
T.B. Joshua believed that he was the target, with rival pastors having lobbied the government to introduce the ban as he was dominating the media with his 'miracles.' However, he used the ban to his advantage, launching a satellite station, Emmanuel TV, which catapulted him to international fame. He was perhaps the first pastor to explore the internet and satellite broadcast to sell his ministry to an international audience.
T.B. Joshua said during one of his services: "When my the Nigerian Government banned me from airing my programmes on local Nigerian Television. I said to mee to establish Emmanuel TV. But I believe the name is too long because most of the television stations I knew had just three to four letters. So, I considered using SCOAN TV but all efforts to register SCOAN TV proved abortive. There were claims that there are stations with the name already. I had to follow God's instruction. If the government did not ban my programme on local Nigerian television stations, I would not have established Emmanuel TV. Your challenges are your friend that would make you fulfil God's plans for your life."
Emmanuel TV is a Christian television network with headquarters in Lagos, Nigeria, which has wide viewership especially as it is on cable TV. It is also the most subscribed Christian ministry channel on YouTube worldwide with well over 1,000,000 subscribers, as of January 2019 
Since its inception, Emmanuel TV has broadcast Christian programmes, stating that its mission is 'to preach the Good News to all mankind.' From humble beginnings, it has rapidly grown to become one of Africa's most well-known brands and popular television stations. In its profile on Joshua, the BBC described him as "Nigeria's best-known televangelist".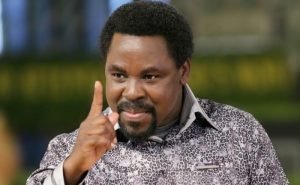 Programming
Emmanuel TV broadcasts a range of programmes from Synagogue Church of All Nations (SCOAN). It has gained a reputation for being a Christian station that does not run any on-air campaigns for financial assistance and among the only Christian stations that does not syndicate programs of other pastors. It is broadcast worldwide on various satellites. Its programmes air weekly on several local television stations across Africa, debuting on DStv and GOtv in November 2015, as well as Startimes in February 2016. Its playout centre is located in Johannesburg, South Africa.
Emmanuel TV's motto is 'Changing Lives, Changing Nations, Changing the World.' The station is also known for its catch-phrase, 'Distance Is Not A Barrier,' encouraging viewers to 'pray along' with T.B. Joshua by 'touching the screen.' There are several claims of people receiving miraculous 'healing' through these prayers, including popular Nollywood actress Tonto Dikeh who said Joshua's prayers ended her 14-year smoking addiction.
T.B. Joshua has reportedly donated televisions to prisons and hospitals so that they will be able to watch the Emmanuel TV broadcasts.
Emmanuel TV's YouTube channel is the most subscribed Christian ministry YouTube channel worldwide and the third most subscribed in Nigeria. Google ranked one of Emmanuel TV's YouTube videos as the fourth most-viewed clip ever within Nigeria. YouTube has shut down the channel, which claimed over 1.8 million subscribers and 600 million viewers, on April 13th 2021. YouTube says that it "prohibits content which alleges that someone is mentally ill, diseased, or inferior because of their membership in a protected group including sexual orientation." Joshua is appealing the decision and has called on his flock – which is found across Africa and Latin America, but includes congregations in the United States and elsewhere – to "pray for YouTube."

His death
His followers found him charismatic and down-to-earth, and his message spread around the world.
Nigerian's influential pastor, televangelist, philanthropist, leader and founder of The Synagogue, Church of All Nations (SCOAN), Prophet T.B Joshua, who passed on Saturday, June 5, 2021, at the age of 57 was considered a pariah among the country's mega-televangelists and struggled until his death to be accepted within their circles, despite amassing millions of followers across Africa.
He was one of the most controversial and "enigmatic'' Nigerian pastors of his generation, especially with his preaching style and records of miracle performances.
"Time for everything – time to come here for prayer and time to return home after the service'' were some of Prophet Temitope Balogun Joshua's last memorable words when he spoke during the Emmanuel TV Partners Meeting on Saturday, June 5, 2021.