Glowing tributes and tears flowed freely on Friday at the Synagogue Church of All Nations (SCOAN), Ikotun, Lagos when the remains of its founder and Popular Nigerian televangelist, Prophet T.B. Joshua were finally laid to rest after a week of funeral rites.
Many members of SCOAN were emotional during the ceremony as they were seen wailing and bidding him farewell as the casket bearing his remains was carried out of the church's auditorium by pallbearers for interment.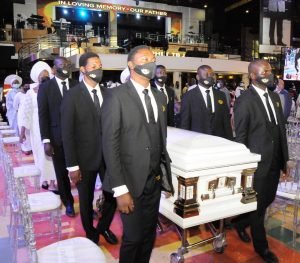 The interment and laying-to-rest service held at the SCOAN Headquarters.
The laying-to-rest ceremony attracted Ondo Governor, Rotimi Akeredolu; Lagos Governor Babajide Sanwo-Olu, who was represented by Commissioner for Home Affairs, Prince Olanrewaju Elegushi; and wife of Ooni of Ife, Olori Naomi Adeyeye.
Other eminent personalities, including publisher Dele Momodu, International gospel singers, Shirley Murdock and Byron Cage were also in attendance.
Prophet Temitope Balogun Joshua was revered by people from around the world and tens of thousands of people attended his weekly services.
The charismatic preacher's rise to prominence in the late 1990s coincided with the explosion of "miracle" programmes performed on Nigerian TV by various pastors.
His ministry professed to heal all manner of illnesses, including HIV/Aids and attracted people from around the world.
Known as the "Prophet" by his followers, he ran the Christian television station Emmanuel TV and often toured Africa, the US, the UK and South America.
TB Joshua came from a poor background and was brought up by his Muslim uncle following the death of his Christian father.