Professor Raphael Afonja, a former commissioner for works and transport in the administration of Seyi Makinde, governor of Oyo State, put smiles on the faces of many indigent Ogbomoso indigenes during the just concluded Eid-l-Kabir celebration.
It was gathered that Afonja was eyeing the Ogbomoso North/Ogbomoso South/Orire federal constituency seat in the house of Representatives before he was made commissioner in 2019. Though it is not confirmed whether or not Afonja, after being relieved from office, would contest the 2023 election.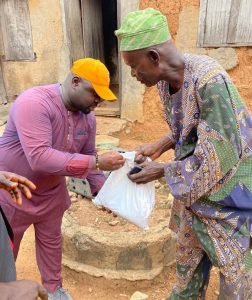 Afonja is a chieftain of the Peoples Democratic Party (PDP) in his native Ogbomoso town.
Done in partnership with Baba Kuete, an On-Air Personality at Parrot FM, Ogbomoso, food items and cash were given to the disabled, widows, elderly, drivers and the needy.
Asked what motivated him to extend the gesture, Afonja explained that it was just a normal thing for him as he has always embarked on such even before he joined active politics.
"It is just a style of telling those who are well-to-do to also feel encouraged to assist people. If we don't do it, nobody would do it. We have got to assist our people. The harsh economy is biting harder. The little trades some of them are involved in are gone. We just have to start somewhere. Nothing is too small.
"Forget the fact that I now reside outside the shores of this country, I grew up here. I know how people look to the festive periods like Eid-l-Fitri, Eid-l-Kabir, Christmas, Easter and New Year. But for quite some time now, things haven't been easy. Those who have things to do are not encouraged because of the downturn. So, I felt we needed to put smiles on their faces," he added.