THE All Progressives Congress (APC), has set up a panel to broker peace between feuding legislators in the ongoing budget padding controversy in the House of Representatives.
Rep. Abdulmumuni Jibrin was at the APC national secretariat on Tuesday with a retinue of lawyers and aides to answer questions by the committee.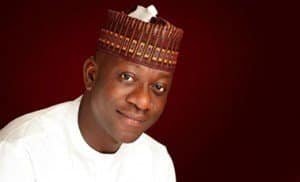 The panel was set up to wade into the crisis involving the Speaker, Yakubu Dogara, Deputy Speaker, Lasun Yusuf and the House Minority Leader, Leo Ogor.
Decked in white brocade with cap to match, Jibrin arrived at the party's secretariat at 2.05 p.m. in a black Land Cruiser with registration number BWA768AMY.
National Deputy Chairman (North), of APC, Sen. Shuibu Lawal and leader of the panel, said the committee had met with Dogara separately before meeting with Jibrin.
Other party stalwarts in the panel include National Secretary, Mai Mala Buni, National Treasurer, Bala Gwagwarwa, National Vice-Chairman, Inuwa Abdulkadir, among others.
Lawal told newsmen after three hours meeting that "we are discussing with them and it is an ongoing consultation, we are not done with them.
"We sat with the speaker, we just finished sitting with him and we would continue to sit with him.
"In respect of what is going on in the House of Representatives, I was asked to come and brief the party, honestly speaking we never thought it would be covered by the media.
"I summoned him, the national secretary of the party and the national vice chairman of his zone to discuss, there is nothing like passing any judgment on any member of the party.
"We only play our role as the umpire in this matter to see how we can create some atmosphere of peace and unity among our members.
"But when certain things go off course, the party needs to call it's members to know how best to unite any feuding members and that is exactly what we did.
"What we did actually was that we heard from him. We have heard earlier from the speaker but because it was not in the newspapers…. nobody knew we held a meeting with the speaker.''
He stressed that the discussion was to get a better brief.
"They are our members; we should know from them directly what is really going on so that we can see how we can handle the situation without necessarily making it a town square dance."