Says 'Unity List' Used To Rig Election
PROFESSOR Tunde Adeniran, a cutting edge hopeful from the South-West contesting for the national chairmanship of the Peoples Democratic Party (PDP), has rejected the constituent procedure at the elective national convention of the party, held at the Eagle Square, Abuja, on Saturday.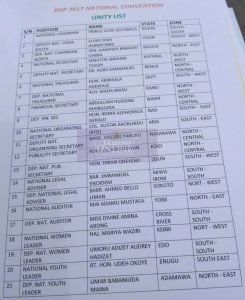 Adeniran, who comprehensively decried the discretionary procedure in front of the declaration of results, portrayed it as "fraudulent and unfair."
The chief of exposure to Adeniran, Mr Taiwo Akeju, told columnists at the Eagle Square, Abuja, that his central "is against the use of a unity list, which he claims was used to rig the process."
Tending to newsmen, the Media Director of the Organization, Akeju, said that the result of the tradition won't stand.
He approached the Board of Trustees of PDP to assume control over the issues of the gathering the between time till such a period a crisp exercise that would satisfactory for all is composed.
Yet another contestant for the position of the National Chairman of the party, High Chief Raymond Dokpesi on Saturday blamed the party's National Leadership decisions, depicting it as an uncalled for process fit for imperiling the fortunes of the gathering.
Dokpesi told newsmen at the convention ground that the way toward voting had been fixed, after the dispersion of a solidarity list containing names of competitors accepted to have won decisions into different National authority positions in the gathering.
He clarified that the 21 names of hopefuls contained in the rundown showed up on the ticket papers as number one and in the Voting boots as number one.
He said protestations were held up to the director of the PDP discretionary board of trustees, Hon Gabriel Susuan who affirmed that he had seen the rundown with a few delegates yet he wasoverwhelmed.
Dokpesi said tragically that a gathering which was simply escaping a noteworthy administration emergency wouldl be engaged with demonstrations of exemption and race misbehavior.
He however approached the party's leadership to desperately amend what he called an oddity and an act before it turns into another significant test in the gathering, ahead 2019 general decisions.
Notwithstanding, the Secretary of the Media Committee of the Commission who was likewise a previous National Publicity Secretary of the Party, Hon John Odey. Said that the rundown available for use labeled 'Solidarity list" was not marked hence demonstrating that it was a phony one