The team lead of Discover Ekiti and lead organizer of the just-concluded third edition of Hike Ekiti Mountain Safari, Mr Michael Peculiar Ekiran has stressed that investment in Mountain Tourism could be the next white oil in Ekiti.
Ekiran, who disclosed this in a chat with Reporters At Large, noted that "one of the untapped goldmine powers in Ekiti State still lies in Tourism, especially Mountain Tourism. Mountains, hills, caves, waterfalls and other tourist potentials in Ekiti communities are not there for decoration but discoveries, exploration, tours and adventures."
Ekiti, he said, "is literarily known as 'Ile-Okiti', which is a land surrounded by rolling hills and mountains. Virtually every community in Ekiti is surrounded by astounding hills, astonishing mountains, and beautiful and magical rock formations. Mountains hold significant meanings to the people in the Ekiti Communities."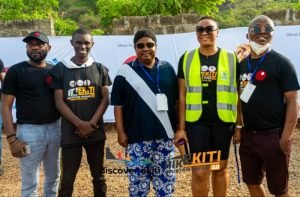 He further explained that "Taking a journey towards exploring Ekiti communities, visitors and tourists will notice that the communities are surrounded by several historic hills, notable hills and mountains that tell stories of how the people of the ancient Ekiti were protected from their enemies during the time of inter-tribal war.
"The people of ancient Ekiti found refuge in these historic places whenever there is trouble or war in the town. Unwritten history told about how neighbouring tribes always threatened people in ancient Ekiti communities and about how they were usually captured as slaves by their enemies to be sold to white men.
"However, some historic Ekiti hills and mountains came to their rescue after some time. Since then, most of Ekiti hills and mountains have been tagged as historic monuments in hosted communities."
The team lead of Discover Ekiti added that "Considering the astonishing tourism potentials of these historic Ekiti hills and mountains, they have the economic viability and attraction potential to be advanced premium and iconic heritage tourist centres that can attract the patronage of Global and Local Tourists, visitors, adventurers and investors."
Ekiti As A Choice Destination For Mountain Tourism Adventure
He explained that "Every destination we all dream to travel to in the world – USA, Dubai, Paris, Kenya – started with one thing in mind, Community Branding and Place Marketing Initiatives. For example, Kenya, Tanzania, Uganda and Some part of South Africa are naturally endowed with Wildlife's and they have successfully build a global brand around it known as Wildlife Safari.
"Also, communities in Dubai are naturally endowed with deserts and they have successfully build a global brand around it known as Desert Safari. Nearly, every community in Africa have at least one selling point and brand identity that can attract the attention of the whole to it. Ekiti is one of those Communities. So what is so unique about Ekiti that can attract the attention of the world to it?
"Ekiti is naturally endowed as a community with one of the largest and most astonishing Mountains Hills and Rock formations in the world. Ekiti is historically known as "Ile-Okiti" which is a land surrounded by Hills, Rocks and Mountains."
He explained further that Discover Ekiti, a destination marketing organization has noticed this gap and "we are committed to adding our value to the development of mountain tourism attraction and potentials in Ekiti State.
"Leveraging on place marketing and community brand marketing initiatives, we are championing this course by projecting, promoting and showcasing Ekiti Mountain Tourism potentials to the world as one of the best choice destinations for Mountain Tourism adventures through a destination and place marketing mountain tourism adventure event, branded as Hike Ekiti Mountain Safari."
Ekiran, who described the maiden edition of the event started in April 2019 as a huge success, leveraging the power of the digital media platforms, compelling brand promotion messages and strategic integrated marketing communication channels, said the event attracted the patronage of mountain hikers and Tourist adventurers within and outside the country.
"It is also worthy to state that the maiden edition of the event attracted international hikers, Tourists and enthusiast from South Africa, Dubai, Jamaica and Germany, we also had bookings from tourists from New York and London but could not make it due to some logistics challenges. Local and national tourists that attended the came from the following states in Nigeria; Lagos, Abuja, Porthacourt, Oyo, Kwara, Ondo, Ogun, Osun, Kogi and Delta, among others.
Vision For Ekiti Mountain Safari
Ekiran revealed that "Through the Hike Ekiti Mountain Safari event, we intend to achieve the following Objectives and Impact deliverables:
1. Project and promote Ekiti to the world as a choice destination for mountain tourism adventures.
2. Attract global, national and local tourist that will visit Ekiti and have an exciting, thrilling and magical experience hiking, touring and exploring Ekiti hills and mountains.
3. Attract investors and developmental partners who will invest in Ekiti mountain Tourism potentials.
4. Advocate for the government political will towards providing infrastructures that will help upgrade the tourist's attraction to destination site with facilities that will help attract repeated patronage of tourists and adventurers the third edition held.
5. Advocate for Community Based Tourism Development through the following strategies:
– Ensure that Government create Tourism Policies and Infrastructures that will enable residents of local communities to benefit and earn income from the services and value chain of the local Tourism Economy.
– Educate & Sensitize communities about the economic importance of Tourist attractions in their locality and the need for conservation and protection of the tourists attractions.
– Collaborate with local communities with astonishing tourist attractions on how to foster and attract infrastructures that will help in sustainable development, conservation of the tourist attractions.
6. Development, Management and Conservation of Tourism Heritage Sites for Sustainable Development
Meanwhile, Mr Ekiran described Ekiti State Governor, Dr Kayode Fayemi as a proactive Governor who did not only approved the hosting of the event which attracted over 350 hikers to Ekiti but encouraged the Office of his Senior Special Assistant on Tourism Development to collaborate effectively with the branding, packaging and organization of the event which was flagged off by the Ekiti State Commissioner for Arts, Culture and Tourism, Prof Rasaki Ojo-Bakare.
He said the 3rd edition of the event would not have been successful without the institutional support from the Office of SSA to Governor Fayemi on Tourism Development, being superintended by Wale Ojo-Lanre.
He described Dr Fayemi as a Governor who understands that tourism is private sector driving which should not be bugged with bureaucracy and red-tapism and thus created the Office of the Senior Special Assistant on Tourism Development as a bridge or liaison house between the public tourism sector and private tourism sector.
"Our collaboration with the Office of the Senior Special Assistant to Governor Fayemi on Tourism Development on Hike Ekiti Mountain Safari – 3 was a bountiful exercise in public-private partnership a concept which provided a rich platform for us to network, reach out to larger stakeholders engage in a purposeful relationship with tourism practitioners and gained a wider mileage in contacts and syndicated participation in Hike Ekiti Mountain Safari – 3," Ekiran said.
Ekiran revealed that "with the spectacular success of Hike Ekiti Mountain Safari – 3 of Abanijorin Rocks, the preparation for Hike Ekiti Mountain Safari – 4 will commence in earnest."
The third edition of the event was sponsored by Sterling Bank which was the official product sponsor of the event, Voki, a private organization that is in love with Ekiti State, Fearless drink, Fabian Hotel, Davies Hotel Ibadan, Motif Funland, Triple G Ecotourism Solutions, Waka Tour among other corporate organisations and individuals.